Paul Fawkesley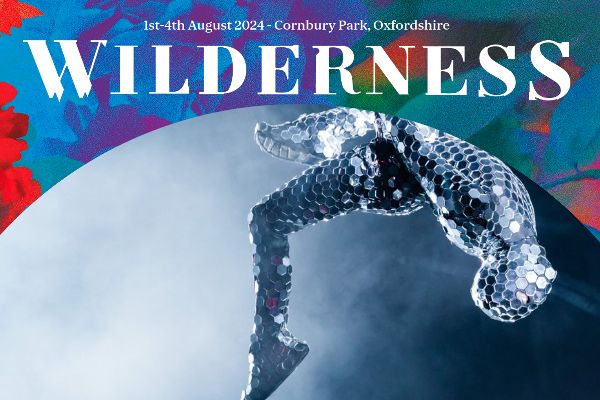 Notes and links from a wonderful weekend in Cornbury Park.
Friday
Swim
Glorious. Poor weather meant it wasn't packed which was nice.
The Great Potential & Risk of the Metaverse
XR: Extended Reality.
Alice Wroe, XR Lead at Atlantic Institute
Catherine Allen,CEO of Limina Immersive
Deepa Mann-Kler, CEO Neon & Director Belfast XR Festival
Bass Bath
Bonkers. Huge bass speakers move through lots of low frequencies. Lying down makes it quite a hypnotic experience.
The War on Drugs and the Climate Crisis
Clemmie James, Health Poverty Action, International colation for Drug Policy Reform & Environmental Justice.
Neil Woods, former undercover police officer. Part of Law Enforcement Action Partnership. Books: Good Cop Bad War, Drug Wars.
Kojo Karam, academic at the School of Law at Birkbeck College, University of London.
Premise:
because drug production is illegal, it has to be done secretly
… by deforesting deep into the rainforests
and drug money has to be laundered. many billions a year.
illegal logging is an easy "investment" for laundered money
organised crime always invests in corruption, highest ROI
policing approach leads to concentration of power of smaller number of cartels
cartels gain monopoly, get richer, more power, more corruption, more logging
Chemical Brothers
Amazing, never seen the main stage so packed.
Wanton String Band
Cool folk bank. They had some quite heavy, grungey pieces which was cool.
Popola
Amazing hardcore DJ set by 2 ladies.
Saturday
Climate panel
Andrew Bowring - Wind Empowerment
Syed Ahmed, Community Energy London
Adam Vaughan, environment editor at The Times
Carla Denyer, Green Party co-leader
Long to reign over us… Is the monarchy past its sell-by date?
Camilla Tominey
Graham Smith
Yasmin Alibahi-Brown
Oli Dugmore
chaired by Serena Kutchinsky
Letters Live
So funny, sad, poignant, moving.
Favourites:
On the ending of Animorphs, by K.A. Applegate

Dear Animorphs Readers: Quite a number of people seem to be annoyed by the final chapter in the Animorphs story. There are a lot of complaints that I let Rachel die. That I let Visser Three/One live. That Cassie and Jake broke up. That Tobias seems to have been reduced to unexpressed grief. That there was no grand, final fight-to-end-all-fights. That there was no happy celebration. And everyone is mad about the cliffhanger ending. So I thought I'd respond. Animorphs was always a war story. Wars don't end happily. Not ever. Often relationships that were central during war, dissolve during peace. Some people who were brave and fearless in war are unable to handle peace, feel disconnected and confused. Other times people in war make the move to peace very easily. Always people die in wars. And always people are left shattered by the loss of loved ones. That's what happens, so that's what I wrote. Jake and Cassie were in love during the war, and end up going their seperate ways afterward. Jake, who was so brave and capable during the war is adrift during the peace. Marco and Ax, on the other hand, move easily past the war and even manage to use their experience to good effect. Rachel dies, and Tobias will never get over it. That doesn't by any means cover everything that happens in a war, but it's a start. Here's what doesn't happen in war: there are no wondrous, climactic battles that leave the good guys standing tall and the bad guys lying in the dirt. Life isn't a World Wrestling Federation Smackdown. Even the people who win a war, who survive and come out the other side with the conviction that they have done something brave and necessary, don't do a lot of celebrating. There's very little chanting of 'we're number one' among people who've personally experienced war. I'm just a writer, and my main goal was always to entertain. But I've never let Animorphs turn into just another painless video game version of war, and I wasn't going to do it at the end. I've spent 60 books telling a strange, fanciful war story, sometimes very seriously, sometimes more tongue-in-cheek. I've written a lot of action and a lot of humor and a lot of sheer nonsense. But I have also, again and again, challenged readers to think about what they were reading. To think about the right and wrong, not just the who-beat-who. And to tell you the truth I'm a little shocked that so many readers seemed to believe I'd wrap it all up with a lot of high-fiving and backslapping. Wars very often end, sad to say, just as ours did: with a nearly seamless transition to another war. So, you don't like the way our little fictional war came out? You don't like Rachel dead and Tobias shattered and Jake guilt-ridden? You don't like that one war simply led to another? Fine. Pretty soon you'll all be of voting age, and of draft age. So when someone proposes a war, remember that even the most necessary wars, even the rare wars where the lines of good and evil are clear and clean, end with a lot of people dead, a lot of people crippled, and a lot of orphans, widows and grieving parents. If you're mad at me because that's what you have to take away from Animorphs, too bad. I couldn't have written it any other way and remained true to the respect I have always felt for Animorphs readers. K.A. Applegate
Letter to the children, Sheriff Anwar

Dear Julie and Brian My name is Sheriff Anwar. Your mum and dad have asked me to make a decision on whether you should see your dad. I think that as my decision is all about you, it is only fair that I should write to you. I have not met you, but I have heard a lot about you. You mum has told me all about how you are getting on at school and about your likes and dislikes. Your dad has told me about all the things you used to do together. Your mum and dad have also told me about the problems they have had with each other after they split up. Sometimes, when parents split up it is very hard for them to stay friends. Your mum and dad have found it very hard to stay friends. Sometimes when people are no longer friends, they can say some nasty things about each other. They forget what is good about each other. That is not right and it is not nice. It shouldn't happen. You should not have to hear any of that. That is for the adults to sort out. I have listened carefully to what everyone has said. It's my job to listen carefully and then decide what is best for you. Your mum, dad, and other members of your family have all spoken to me. I have also listened to what Dr Khan has said. I know, from what your mum and Dr Khan have told me, that you don't want to see your dad. I can understand that. Your dad's job is to care for you, protect you, love you, help you, make good plans for you and to know what is right for you. Sometimes, he has not been very good at that. He has locked you in your rooms when you have been naughty and you haven't liked that. He has sworn at you sometimes and you haven't liked that. When you were younger, he washed you and he was a bit rough, and you didn't like that. He asked Mrs McCormick to move in to his house and he took her on holiday with you, without telling you first. He should not have done that. That was not fair of him. He should have talked to you first so that you knew what was happening and why. But I don't believe that your dad meant to hurt you or to be mean to you in doing the things that he has done. I believe that he did not really think about how you would feel. That does not make him a bad dad. I know that there are lots of things that you did together that you really enjoyed, like playing in the garden, skiing and going on holidays. I know that he used to help you with homework, make your dinner and pick you up from school. I know that he has kept in touch with the school to learn about your progress. There is a good side to your dad. He really wants to make things better with you. He wants to be your dad. He wants to love and care for you. He wants to spend time with you. He has told me that he will do anything he has to do to make things right. I think that your dad needs some help to understand how you are feeling and to understand how he can be a better dad to you. I think that your dad needs some help to make sure he doesn't make the same mistakes. I have asked him to get that help and he has agreed. He might also, sometimes, need some help from you to understand how you feel. I think your mum also needs some help to be better able to support you and to be more positive about your dad. She has agreed. I hope that she will now focus on helping you to see the good in your dad. She has told me that she will support you in getting to know your dad again, if that is what I decide is the right thing for you. I have also asked your mum and dad to get some help so that they can talk to each other again, even if they can't be good friends. So, I have thought about all of this very carefully. I have especially thought about how you feel. I don't think that it is good for you to grow up thinking you have a bad dad. I don't think that it is good for you to forget all the good times. I don't think that is it good for you to think that your dad meant to hurt you, when he didn't. I think that it is better for you to get to know your dad again and to give him a chance to make things better. I have asked Dr Khan to meet with you and to help you to understand my decision. I have decided that your dad should write to you once a month, so that you can start to get to know each other again. I hope that you will feel able to write back to him. We all make mistakes. The important thing is that we learn from them. I think your dad has learned from his mistakes. I hope that my letter explains to you why I have made this decision. Sheriff Anwar
Hip Hop Karaoke
Amazing, always. Worth getting in at the front.
Brass Funkeys
Ditto.
Sunday
Swim
Note to future self: don't skip a swim even if the weather's bad. Great start to the day.
Wilderness Behind the Scenes
Always lovely to hear from the organisers. Asked how they make Wilderness run so well with so few rules.
Make it obviously they trust their customers. No surveillance, no heavy security presence.
Make the site so beautiful people want to look after it. Hide all the metalwork. Litter picking.
Arts tent
Bumped into Lorna W and decorated a pineapple with her daughter in the Arts Tent!
The Trawl Podcast Live
Jemma Forte & Marina Purkiss.
Learned about The Movement Forward, a tactical voting campaign to get the tories out.
The Silk Road Mountain Race
Extremely badass adrenaline junkie Holly Budge. She's about to ride across Krygistan on horseback for weeks.
What I Wish I'd Known About Becoming A Detective
Jess McDonald.
Book: No Comment: What I Wish I'd Known About Becoming A Detective
The Making of The Shamima Begum Story
Letters Live part 2
More great letters, can't remember faves though.
God's Jukebox
People write to Wilderness with a song request and a dedication. The letter is read out and the Wilderness orchestra plays the song. It's beautiful and a real highlight.
Sugababes
Amazing throwback! Fab voices, fab performance. Great spot behind the VIP / accessible stage as it wasn't crowded but you could see the screens.
Fatboy Slim
Absolutely awesome set.
Best food
Persian Street Food: loaded fries (chicken and pork both amazing)
Buddha Bowl (not that fussed about adding halloumi)
Mama Thai: Chicken Penang
Best Coffee
Waffles had cheapest black americano (£2.50 compared to average £3.30) and very nice staff.
---