Paul Fawkesley
Surprisingly high CO₂ levels in the house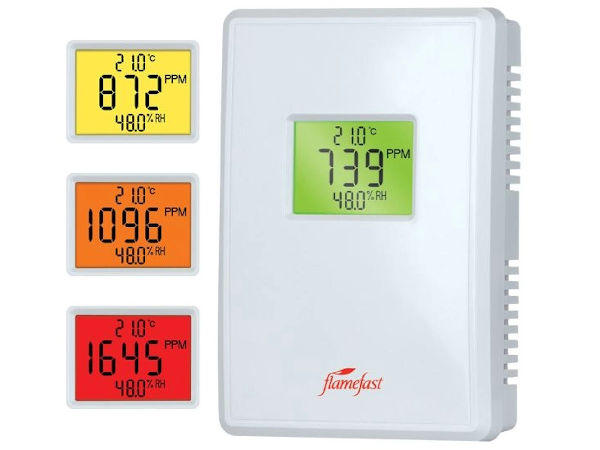 Our Retrofit Assessment identified high carbon dioxide (CO₂) levels all around the house.
As four of us sat at the table in the open plan kitchen and living area, we measured 2000 parts per million (ppm).
As a reminder, outdoor CO₂ is around 420ppm and 2000ppm is thought to make us stupid and drowsy.
The high reading seemed like an error so we purged the room (opened the doors and windows) and the level quickly dropped to atmospheric.
We closed the doors and windows and within 10 minutes the level had passed 1000ppm and was on its way to 2000ppm again.
Nothing was burning: this CO₂ build up was entirely caused by four adults breathing.
No ventilation
This was a clear indication that our home's ventilation was broken.
This was the result of a series of mistakes:
the kitchen extractor had been removed or was never installed,
the windows had been replaced with no trickle vents
… which would be fine if alternative ventilation (air bricks) had been added, but they hadn't.
The result is that there's nothing pulling dirty air out and no way for fresh air to enter.
Bad ventilation = bad health
Poor ventilation means poor indoor air quality which is a disaster for health.
Some problems caused by poor ventilation are:
Black mould caused by humidity having nowhere to go and condensing on cold surfaces. (This was our initial trigger to do the retrofit assessment)
Pollution from burning fossil gas in the cooking hob. The benign sounding "natural gas" misleads from the fact that burning it causes asthma in children.
Volatile organic compounds (VOCs) emitted from e.g. paints, varnishes, aerosol sprays, cleaners, disinfectants, personal care products and so on.
Carbon dioxide from breathing and burning things, making us stupid and sleep poorly.
Easier transmission of airborne pathogens like flu, covid, cold etc.
CO₂ is a good proxy for other types of air pollution. If we have high CO₂ levels it's likely we have high levels of other air pollution too.
Measuring CO₂ in the bedroom
I've been working on a new ventilation strategy which incorporates a CO₂ monitor in the master bedroom and the main living area. That'll get its own write-up, but here are some early discoveries about the bedroom CO₂ monitor.
I installed a Flamefast CO2M (pictured above) at a high level in the bedroom.
The sensor must be calibrated by being exposed to atmospheric CO₂ levels once a week. This was easier said then done in such a poorly ventilated house. I managed to achieve 425ppm by attaching a fan to the curtain rail and directing outdoor air straight at the device.
I wanted to test how quickly CO₂ buildup would occur in the bedroom so I ran this experiment:
let the room get to atmospheric CO₂ level
enter and close the doors and windows
record a reading every minute for 20 minutes
Here are the results: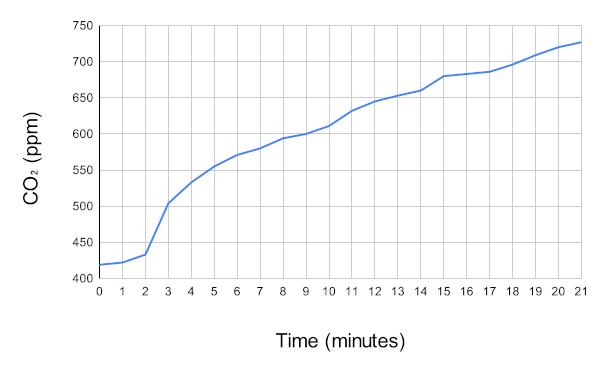 Open raw measurements
| Minute | CO₂ reading (ppm) |
| --- | --- |
| 0 | 419 |
| 1 | 422 |
| 2 | 433 |
| 3 | 504 |
| 4 | 533 |
| 5 | 555 |
| 6 | 571 |
| 7 | 580 |
| 8 | 594 |
| 9 | 600 |
| 10 | 611 |
| 11 | 632 |
| 12 | 645 |
| 13 | 653 |
| 14 | 660 |
| 15 | 680 |
| 16 | 683 |
| 17 | 686 |
| 18 | 696 |
| 19 | 709 |
| 20 | 720 |
| 21 | 727 |
I was surprised how quickly the CO₂ level rose from just me sitting still in a room. Unfortunately I had to end the experiment at 21 minutes to answer the door.
Ad-hoc observations
On occasion I've woken in the night and taken a look at the CO₂ monitor. The green, amber, red backlight is helpful for glancing to see the level.
With both windows "on the crack" I've seen the level around 1500ppm and as high as 1800ppm in the night.
With one (small) window fully open I've seen the level hovering around 1000ppm.
High CO₂ → Fan boost
The CO2M has a built-in relay which can close at 800 or 1000ppm. Once I've sorted out the continuous extractor fans I could use the CO₂ level to boost the fan.
It'll be interesting to see whether the additional extract rate can compensate for the CO₂ buildup.
---